Culinary Workshop with Sharon Kurzfeld
A culinary workshop designed for adults with Sharon Kurzfeld: blogger, founder, and CEO of Fortyliciouss.
Don't miss out on the chance to treat yourself and a loved one to this opportunity!
Sharon will help you prepare for your next date night, with a romantic evening learning to make dishes just for two such as Sharon's Jerusalem Night:
1. Israeli Sweet Baklava
2. Savoy Date ball
3. Jerusalem Baguett
4. Chocolate hamsa that you will receive a treat by Sharon
*Note: the ingredients and food will be kosher

Date: Thursday March 9, 2023
Location: Prosserman JCC (4588 Bathurst Street)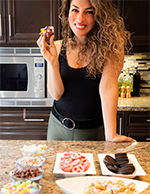 For more details about this program please contact Galya Sarner at Galyas@srcentre.ca.